Medical
From our very first project to the present, Ratanak International has
always been committed to ensuring that there is medical access for
Cambodians in need of treatment. We have provided clinics, hospitals,
ambulances, supplies, and most importantly, genuine care and love
to those suffering.
Providing medical services has always been the cornerstone of Ratanak International's work alleviating the suffering of so many Cambodians who have been victims of war, revolution, isolation and poverty.
It is no wonder that Ratanak International was built upon providing medical relief. The original 'Ratanak' was a little girl who died tragically in 1989, because no basic medical services were available for her in post-genocide Cambodia. Brian McConaghy, our founder, never got to meet this child named Ratanak, but his life was completely changed by her story. The projects of Ratanak International are dedicated to the memory of this child. Now, many years later, the survival and health of
thousands of children in Cambodia stands as an amazing 
legacy of the life of this little girl who did not, herself, survive.
How It Began
The first Ratanak International project involved bringing in desperately needed medical supplies to Cambodia, which was then isolated by war, geopolitics, communism and an international embargo. In the early 1990s, before the UN entered Cambodia, conditions in the country were deplorable and tragic.
After the successful delivery of those supplies, Ratanak International moved on to our first building project, a water tower and pump system for the provincial hospital in Kampong Cham. This was a challenging project as there were few building supplies left in the country and fewer skilled workers with the right equipment. However, eventually it was successfully completed and a 700-bed hospital had clean water for the first time in over a decade.
CAMA
In the early 1990s, as civil war raged across Cambodia, Ratanak International developed a long standing and successful partnership with the Christian and Missionary Alliance (CAMA), which has seen Ratanak's involvement in medical projects expand across Cambodia. Compassion is the foundation of this partnership, with the aim of improving the quality of life for as many Cambodians as possible. Ratanak's role was to provide as many of the physical resources as we could (ambulances, clinic and hospital buildings, supplies), while the skilled CAMA medical personnel would staff the projects in partnership with the struggling Cambodian Ministry of Health.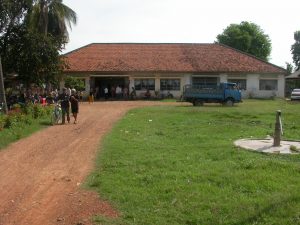 Dignity
In all medical programs funded by Ratanak International, the staff work hard to provide hope and dignity throughout the treatment process of each patient – recognizing their needs, fears and dreams. The goal has always been to provide more than just medical treatment for those in need. Our desire is to walk with them through the trauma, offering not only health, but also hope.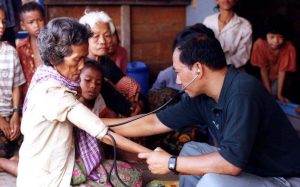 The staff, comprising of both Cambodians and Westerners, daily model the power of Christian compassion and demonstrate genuine care and love to patients, often in their times of deepest fear and need. Patients see staff members living out their faith as they take the time to sit with patients, listen to them, and pray with them. The quality of these medical teams is evident in their skill and compassion as they transform trauma into hope. One Cambodian lady came from a far off province because of the reputation of these teams. During her treatment she commented, "I would sell my cow to come to this hospital." In a rural Cambodian context there is no higher compliment!